"Randy was awesome playing his tunes at our wedding, better than I could have expected! He was professional and the guests absolutely loved him! It's rare to find such great service at such a great price, but we certainly did with Randy! I would highly recommend him to anyone, he did a fantastic job!!!"
Lori R.

How wonderful! Not only the pipes, but he came in full Scottish regalia…and in plenty of time to warm up prior to guests coming to the site.
Brides….If you're wanting a Denver bagpiper at your wedding, this is the one to choose! Wonderful selections and terrific on the pipe
Della Terra Mom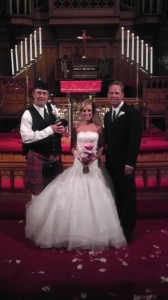 Amazing! Our guests loved being welcomed into the church by bagpipes. We also were escorted back to the venue by Randy- simply wonderful. Randy was professional, on time, kind, respectful and VERY talented! He was dressed in traditional attire and played beautifully. I would recommend him to anyone interested- he was extremely easy to work with and was an awesome addition to our wedding!
Kyle